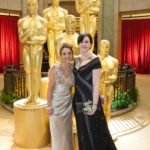 Welcome to everyone who would like to join this organization of people fascinated by all the ways that women–throughout  film history and around the world–have helped to make movies.
Joining is easy.  Please go to the Directory, select Join WIFI from the pull down menu, fill in the blanks and voilà .  Our aim is for the Directory to function as more than a listing of names; we hope it will be a resource for people interested in what you know.  Please take a little time and explain your area of expertise and, if you might, what you are working on right now.
Film-makers are also welcome to join.  We hope our Directory will become just that–a place to find films to show.
I would like to introduce  Sara Nesson and Robynn Murray.  Sara, on the left, is the director of Poster Girl a film about Iraq war vet, Army poster girl, poet, and artist Robynn Murray (on the right)  who came back from war and then battled post traumatic stress disorder.   The film was nominated for an Academy Award in 2010, and it was awarded Best Documentary Short by the International Documentary Association.  Sara Nesson's web site is:  http://www.portrayalfilms.com/